Why choose the Allegro Bus ?
Friends have asked us why we decided to trade in our 43' Country Coach on a 2010 43' Tiffin Allegro Bus 43QRP. Our 2008 Country Coach Inspire 360 43' special "Founders Edition" was definitely a deluxe coach with many, many luxury options, but this new Allegro Bus has more than a few additional features not included on our Country Coach, and some major benefits for us. And being two years newer, the technology is just a little bit more advanced.

Country Coach made some fine motorhomes, but the Inspire was at the lower end of their model choices... the Allegro Bus is at the high end of Tiffin's motorhome line... second only to their Zephyr model with an MSRP over $600K. Very little was spared to make this Allegro Bus one of the finest coaches on the road today. And while the "Founders Edition" had some significant enhancements over the standard Inspire, this Allegro Bus includes many features over and above what we had on our Country Coach, at an MSRP far below a comparably equipped Country Coach or Monaco. The MSRP on our Tiffin with several dozen features over and above what the Country Coach had, was just $353K in 2010. The MSRP on our Founders Edition Country Coach was $378K in 2008. And it just could not begin to compare to the Allegro Bus.

When we purchased our bus, a new 2014 comparably equipped 43' tag axle Allegro Bus had an MSRP right around $450K, still a relative bargain given the features and quality. Tffin packs a lot of value into their full line of coaches, probably a major reason why they have thrived as a company over the years.
---
"Roughing it Smoothly" ··· The Tiffin Allegro Bus ··· When 'Coach' means 'First Class'
---
Of course our coach was several years old when we bought it, so we got a substantial discount. It was certainly not cheap, but with all the options and extras and upgrades we got as part of the deal, it was an excellent value, especially when you consider we got a longer warranty on it than a factory warranty, 3 full years bumper to bumper coverage. In addition, all 8 tires and all 8 batteries, items which are not covered on the dealer warranty, were replaced with new ones.

The dealer agreed to transfer my new 295/80R22.5 Michelin XZA-2 Energy tires from the Country Coach to the Allegro Bus. These are top of the line RV tires for which I paid $8500 installed on my Country Coach. The dealer also completely serviced the Bus and all issues discovered on the pre-delivery walkthru were corrected. I also got a 30 day dealer warranty to correct any issues which might crop up after delivery... no questions asked. It also had the balance of the 5 year Cummins Factory warranty on the diesel engine good until 2015, and we added to that a premium 3 year unlimited miles bumper-to-bumper USWC warranty with a small $75 deductible.

The list of addtional features on the Bus is extensive. For example, the huge stainless residential Maytag fridge with icemaker is a major upgrade over the Country Coach's Norcold gas absorption unit. And with that, the Bus has the required 2800W pure sine wave Magnum inverter and a bank of 6 deep cycle house batteries (2000W modified sine wave inverter and 4 batteries was standard in the Country Coach). Norcold gas absorption refrigerators have had a lot of issues and many Country Coach owners have gone to considerable expense ($6000+) to make this same upgrade.

The dealer gave me 6 new Interstate 6-volt deep cycle house batteries. These are set up with the Pro-Fill On-Board Battery Watering System to easily maintain the water levels in all 6 batteries from a single fill connection. And for living off the grid, the coach has a large roof-mounted solar panel. It also has the same Cummins Onan 10kW Quiet Diesel Generator with AGS (Auto Gen Start) if battery voltages get too low. There is also a built-in Surge Guard Surge Protector to protect all coach electrical systems and appliances.

The driver's console features a custom installed in-dash Silverleaf VMS 240 CL Engine, Transmission and Chassis Monitoring System which includes a tire pressure monitoring system (TPMS) among many other useful functions.

In the plumbing bay there is an additional Seelevel II holding tank monitor panel, a great convenience when filling and emptying tanks. And it has a digital readout showing the exact percentage of full instead of the more basic 1/4, 1/2, 3/4 LED indicators. There's a water hose reel which is very convenient and it is even power operated. The water filter is also located here for easy access. The sewage system is fitted with an optional Macerator, useful for grinding up sewage and pumping it uphill to the sewer hookup, if the usual gravity feed system cannot be used. Of course there is the usual saniflush connection, as well as a hot and cold water faucet, liquid soap dispenser and even a paper towel rack. Lots of convenience here for dealing with the less glamorous side of motorhome living.

The Allegro Bus has the 'Bellagio' interior with the stunning full tile upgrade all the way through from the front entry door to the bedroom door. And the interior woodwork and medium cherry wood cabinetry with the upgraded premium honey glaze finish is among the finest we have seen in any coach at any price. It has window awnings over EVERY window, so that we don't need to have the main patio awning out in tight spaces or when it is too windy. These window awnings keep out rain when windows are left open, and prevent the sun from superheating the coach thru the window (we had thought about adding one under the main patio awning on the CC but never got around to it). Inside the coach, it has power operated day/night top of the line MCD shades on all windows all controlled from one central location (a very nice enhancement).

There is a remote operated keyless entry plus a lighted keyless entry pad by the door, so you will never lock yourself out. There are also very convenient electric remote operated door locks on all the lower storage bays. It has a Whirlpool stack washer dryer rather than the all-in-one Splendide in the Country Coach. It has an electric flush toilet (no more plunger), an almost silent Fisher Paykel dishwasher, a full size residential stainless double basin kitchen sink (identical to the one in our new home). It has 4 flatscreen TV's to our Country Coach's 2, even one on the outside... probably overkill, but hard to complain about it. We've upgraded the one above the dash to a 40" LED and installed an exceptional Yamaha RX-V377BL Home Theater Surround Sound system with 6 speakers throughout the coach including an amplified subwoofer for rich full sound from the Bluray player and the Dish Network HD Satellite receiver.

There is a ceiling fan in the bedroom to provide good air circulation when sleeping, something we really appreciate. It also has a central vacuum, a nice feature as they are so quiet. Speaking of quiet, there are no direct openings in the ceiling for the three 15,000 BTU A/C's... all air is delivered through ducts so the system is much quieter when running than in the Country Coach. It is like the difference between central air and a window unit in a home. It has an Aquahot hot water and heating system like the Country Coach which runs on diesel fuel and/or electric power, but this is the model 450 DE which uses the better Webasto burner instead of the inferior Becket burner like on the Country Coach.

The new Bus is the same length as our Country Coach at 43', but it is a lot roomier, because the main cabin's opposing slides are 16' and 15' as opposed to just 13' each. The living room has a longer sofa that my wife can actually stretch out on and nap. And it is a very comfortable jack-knife convertible sofa which can double as an extra bed. I enjoy dozing in my custom king-size Lazyboy which I moved over from the Country Coach and exchanged it for the smaller leather recliner which came with the Tiffin. Oh yeah - and we have the same 5 Persian rugs from our Country Coach transferred over to the new rig :-) These look terrific on the beautiful full tile floor.

It has a significantly improved "computer station" option with the dining table. It may seem like a small thing, but the wider counter/ledge allows one to easily move stuff off the table to the ledge when dining, and there is a slide out tray for Libby's laptop so she can eat lunch and do Facebook at the same time! Below that is a slide out bay for the printer, a nice feature for all Libby's printing needs. The coach came with a kingsize bed Sleep Number™ Select Air mattress which we changed out for a more comfortable Easy-Rest 10" Supreme Memory Foam Mattress. There is more room to move around the kingsize bed making life easier when making it up. And unlike the Country Coach, there is a nightstand on both sides, not just on one.

For the dealer's original video tour of this coach (before we purchased it) click on this image: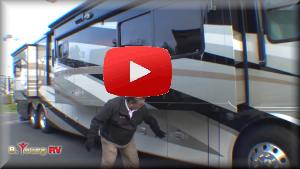 But the biggest benefit is the brand. Country Coach built fine motorhomes on their proprietary Dynomax chassis, but they went bankrupt in 2008/9 like many RV manufacturers in the Great Recession. The Bus is manufactured by Tiffin on their own custom Tiffin Powerglide chassis... they are a family owned company located in Alabama and legendary for their customer satisfaction and support. (P.S. This was borne out with our stop at the factory service center in 2015... to call Tiffin's customer service superior doesn't begin to describe it.) Tiffin also has a vast nationwide dealer network and so it is a much safer thing to own as we travel about the country in the coming years. Besides the superior quality, service and support is the Number One reason I have dreamed of owning a Tiffin since I first got interested in RV's back in 2010. And the Allegro Bus 43QRP with its full height mid bath option was one model I always lusted after. (The reduced headroom in the rear bath models never worked for me.)

To learn more about this amazing company watch some of more than 30 company videos.

Finally, the Allegro Bus powertrain is the industry standard Cummins turbo diesel with Allison transmission. It is fitted with Cummins' workhorse 8.9L ISL engine with 425 horsepower and 1200 ft lbs of torque, the same hp as our Country Coach, which had the Caterpillar powertrain. That was also a great powertrain, however, Caterpillar ceased building over the road engines and transmissions a few years ago and now builds them only for heavy equipment. So like the coach chassis and other mechanicals, a Cummins/Allison powertrain is a better bet for parts availability and support going forward. I feel fortunate that this early 2010 model still came with a late 2009 model Cummins ISL engine which still uses the automatic DPF emissions control rather than the later and higher maintenance DEF system which the EPA mandated in 2010. Also according to Cummins, there was a 12% HP (42hp) loss with the advent of DEF, so they had to come out with the 450 HP version of the ISL engine to partially compensate for the loss.

All in all, it made a lot of sense for us to upgrade at this time as we prepare for the next phase of 'Life on the Road'. The Tiffin Allegro Bus is hard to beat!



Back to The Windseeker Motor Coach homepage